Artwork Services Explained
At the Gravesham Trophy Centre, we offer more than simply engraving text! If you have a logo/image that you would also like engraved, we can help you.
A logo/image you wish to be engraved should be supplied to us:
As high quality as possible (300dpi or higher re

commended for best quality). We can work with lower quality images, but they may have to be edited/redrawn by us, to be suitable for engraving.

In a black and white (1-bit) image file (.JPEG, .PNG etc), or a colour image with little to no shading detail, otherwise it may have to be reworked by us (see below). Otherwise a vectored .EPS, .PDF, .CDR, .SVG, .AI or similar file should be okay.

Any fonts embedded in your images will have to be converted to curves, before supplying, to ensure we can open your image correctly with the desired font (does not apply to standard image files such as .JPEGs).
We are here to help you! If you have any questions about artwork, or would like to discuss a potential redraw/touchup on a logo, please don't hesitate to contact us on 01474 560016 or email sales@graveshamtrophycentre.co.uk
Here

is an example of an image supplied to us, for engraving onto some glass awards. Even when the image is supplied in colour, on many occasions it is possible to successfully convert the image, to make it ready for engraving, providing we have a high quality version to work with).
Once in black and white and vectored, we are ready to produce a stencil and sandblast engrave your chosen glassware to the highest quality.
The finished product, proudly on display with a custom logo!
Redraw Process Example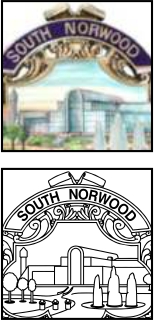 This is an example of a low-resolution digital image from a customer that needed a digital redraw. Our design team follows the original image using design software to accurately build a vectored version manually using lines and objects.

This will enable full compatibility with our engraving machines and stencils used for glass engraving will be the best quality at any size needed.

The finished vector image, suitable for engraving at any size on both glass and metal products!