Personal Presentations
Separate pages of information for:

For all other Personal Gifts, the Gravesham Trophy Centre has a superb collection of Glass and Crystal gifts, which can be bespoke engraved to celebrate any Personal event.
The Gravesham Trophy Centre is happy to assist with your choice of designs and words to be engraved into a beautiful piece of glass or crystal – and create a gift to present at the event, which will be head and shoulders above any other. A little thought can go a long way!
Births & Christenings
Commemorate a New Arrival with a half pint tankard for a Boy or a wine glass for a Girl. Pick something nice for your Birth or Christening Gift and have it bespoke engraved; it will be kept for a lifetime and displayed with pride. And don't forget Mum's 'Giving of Birth Day' too! A special keepsake for the new mother will always be appreciated.
Christenings are a time for celebration and what better than to commemorate the day with your Christening Gift showing the Christian Names only, of the person being Christened. Of course, additional words to acknowledge this special event are added and The Gravesham Trophy Centre can help with these.
| | |
| --- | --- |
| | |
| Christening Tankard | Giving Of Birth Bowl |
Graduation Gifts
Your beloved Son, Daughter, Nephew or Niece will have worked hard to attain their recognition. Mum and Dad may well have shown financial and/or moral support during those years of studying. Such devotion deserves a special gift.
Maybe you think they are a real Star! In which case, The Gravesham Trophy Centre has 'stars' in abundance, all waiting for your message to be engraved. There are are variety of budgets and you will be sure to find one to suit.
Maybe something a little more formal? The photograph taken at Graduation Day will be one to remember – don't let this valuable image be stored away in an album or drawer – your gift can assist in displaying it with pride. Take a look at the Photo-Frames, curved pieces of bevelled glass which are self-supporting. Featuring a photo-frame on one side and lots of space on the other for The Gravesham Trophy Centre to deep engrave your message. Don't hesitate to ask for assistance with this; professional help is yours for the asking.
Driving Test
Such an important event in a young person's life should not go un-noticed. Passing a Driving Test can be honoured in style, with a specially engraved piece of glass or crystal. Drink orientated items are not fit for this occasion, but there are multitudes of other gifts for you to select from.
Maybe a photograph of their First Car can be transposed on to glass, along with suitable words, this will be forever treasured by the young person who has learned their lessons well…!
Valentines Day
Gifts for Young Lovers abound in the Online Shop. Engraved with a Heart and Cupids maybe? Or, a simple gift, engraved with 'that special message'? If the couple are engaged, then a gift for their forthcoming life together – maybe something larger?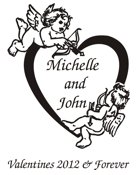 Engagements
Engagement parties can be large or small affairs. A little like The Wedding Day itself; if a party is to be held, then The Gravesham Trophy Centre can offer inexpensive Favours, printed to commemorate the event. One for each guest and maybe something special for the Young Couple too? Something useful, to put away for their forthcoming marriage and future life together.
Take a look in the Shop for ideas, or contact The Gravesham Trophy Centre for some assistance.
New Home Gifts
Everyone agrees that this time in a person's or couple's lives can be the most traumatic. No doubt you are thinking of them and may have been invited to the house warming party? Best to put a little more thought into your gift then? The Gravesham Trophy Centre awaits your call, to help with suitable wording – and choice of gift too, if needed.
Something useful – or something frivolous?! The choice is yours and undoubtably you will know the recipient/s better than anyone. The Gravesham Trophy Centre can all but guarantee that your bespoke engraved New Home or Moving Home gift will be displayed with pride, long after others have been drunk, eaten or died..!
Something Useful – Glass and Crystal, bespoke engraved with a message which is both 'current' and 'ongoing' is the preferred option. Bowls, Vases, Decanter, Whisky Set or pairs / sets of glasses are all useful and will be made great use of.
Something Frivolous – Again, engraved, but maybe with monograms engraved? A pair of crystal keyrings, a Paperweight (they are available in all sorts of shapes and sizes), a Crystal Key or, if they are moving out of the country, what about a Globe? Visit the Shop for some ideas on your choice of gift.
Retirements
A lifetime of work over. Saying 'goodbye' to friends and colleagues. It is a stressful time and one which simply has to be properly recorded in a Retirement Gift. From the 'office' it can simply say 'Presented To – Name – on the occasion – of Your Retirement – Dates (from and to?). Something useful or something commemorative, it matters not. It is the presentation and the words which really matter. Visit the Shop for some inspiration!
Thank You
It never hurts to say those two words which we all appreciate. A job well done, a small service or simply for 'being there'. A Thank You Gift to match the effort. Words to match the occasion. Let The Gravesham Trophy Centre help with your dilemma..! Or, visit the Shop for some inspiration.